Szyba ochronna do drzwi balkonowych
Krótkie wprowadzenie szkła hartowanego
Jako jedna z najbardziej profesjonalnych fabryk obróbki szkła w Chinach od 1985 roku produkujemy różne rodzaje szkła hartowanego, laminowanego, izolacyjnego, sitodrukowego itp. Szkło hartowane jest wytwarzane przez ogrzewanie wyżarzonego szkła float w piecu do ponad 620 ° C , a następnie gwałtownie ochłodzić je strumieniami zimnego powietrza, które blokują zewnętrzne powierzchnie szkła w stanie wysokiego ściskania, a rdzeń lub środek szkła w kompensacji napięcia, powoduje, że szkło jest 3-5 razy silniejsze niż normalne odprężone szkło, niełatwe do złamania. Możemy produkować szkło hartowane według potrzeb rozmiaru, kształtu, do cięcia szkła, aby sprostać wymaganiom szklanego okna, szklanych drzwi, szklanej balustrady.
Informacja o Temper ed Glass
| | |
| --- | --- |
| Thickness | 3-19 mm |
| Max Size | 3300*13500 mm, any customized size can meet your required |
| Min Size | 300*300 mm, any customized size can meet your reuqired |
| Available Type | Float Glass, Heat Reflective Glass, Single Silver Low-E Glass, Double Silver Low-E Glass, Triple Silver Low-E Glass Etc. |
| Color | Clear, Ultra Clear, Green, Blue, Grey, Bronze, etc. |
| Process | Beveling, Drilling, Cutting, Bending, Silkscreen, Painted, Acid Etched, Etc. |
| Edge Processing | Grinding Edge and Polished Edge |
| Corner | Safety Corner and Round Corner |
| Water Jet Cutting | Cutouts, Hinge, Micky Ears |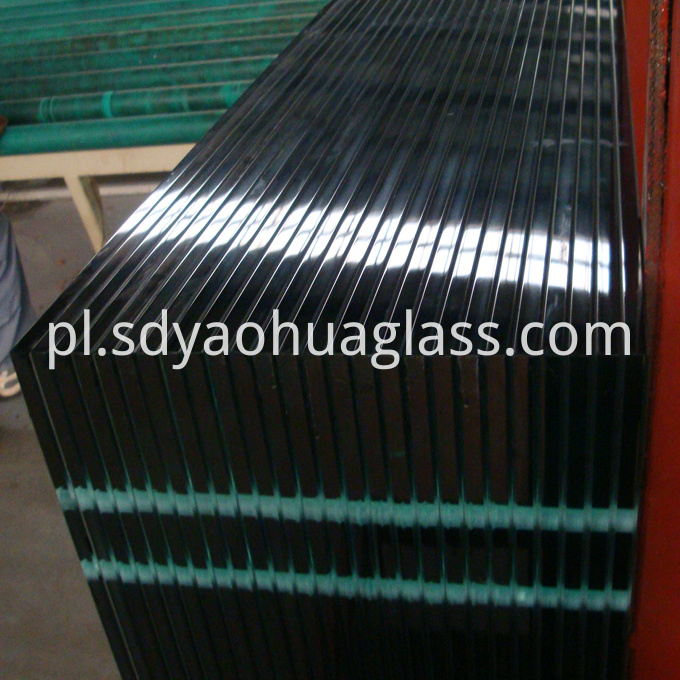 Cecha szkła hartowanego
Bezpieczeństwo: szkło hartowane po rozbiciu na kawałki, aby nie uszkodzić ciała.
Wytrzymałość: szkło hartowane ma 4-5 razy większą wytrzymałość niż zwykłe szkło.
Stabilność na gorąco: dobra stabilność na gorąco, wytrzymuje 3-krotność temperatury w porównaniu do zwykłego szkła, może również ulec zmianie powyżej 200 ° C.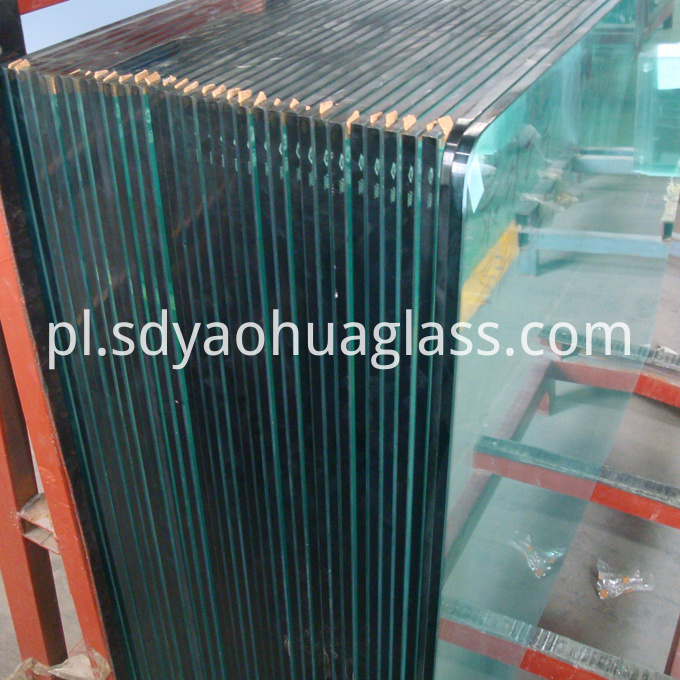 Pakowanie i wysyłka
Czas produkcji: w ciągu 10-15 dni od potwierdzenia zamówienia;
Mocne skrzynki ze sklejki eksportowej, z papierem lub miękkim korkiem między dwoma arkuszami;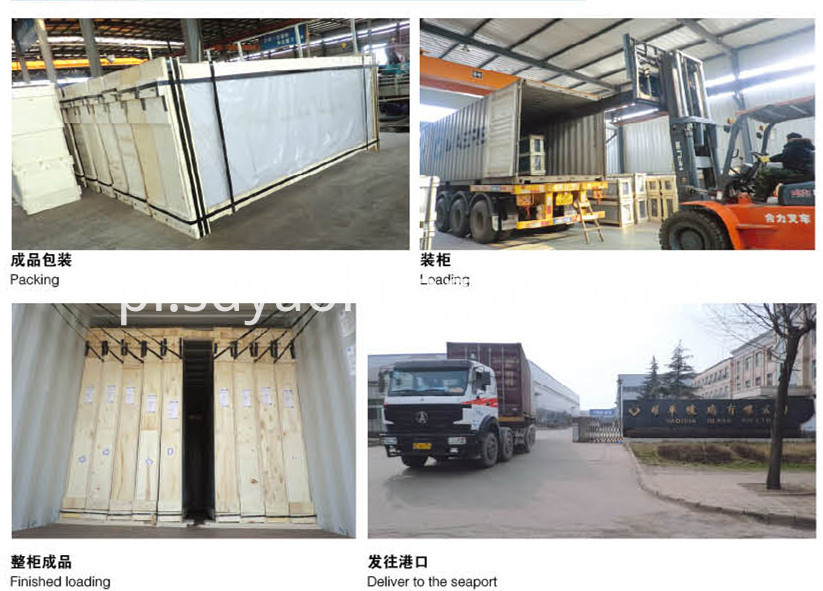 informacje o firmie
Shandong Yaohua Glass Co., Ltd została założona w 1985 roku, po ponad 30 latach rozwoju, stała się jednym z 30 największych producentów szkła budowlanego. Obecnie istnieje około 300 pracowników, 2 duże nowoczesne fabryki standardowe, 3 bazy produkcyjne, ponad 40 000 metrów kwadratowych powierzchni produkcyjnej. Nasza firma posiada Certyfikat Systemu Zarządzania Jakością i Certyfikat CCC. Produkcja zależy od szkła LOW-E, szkła hartowanego, szkła izolacyjnego, szkła laminowanego, szkła sitodrukowego, szkła giętego na gorąco, szkła kuloodpornego, 15 mm, szkła o średnicy ponad 19 mm i innego rodzaju szkła do głębokiego przetwarzania.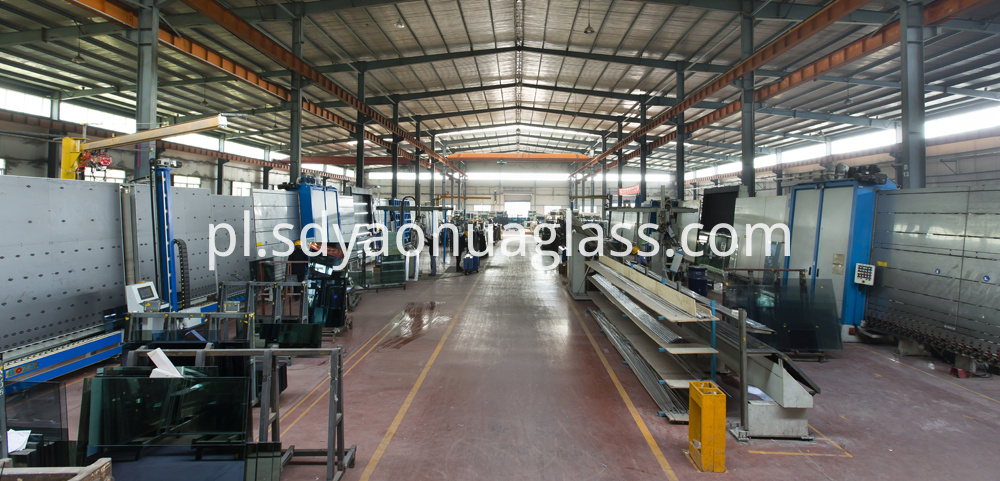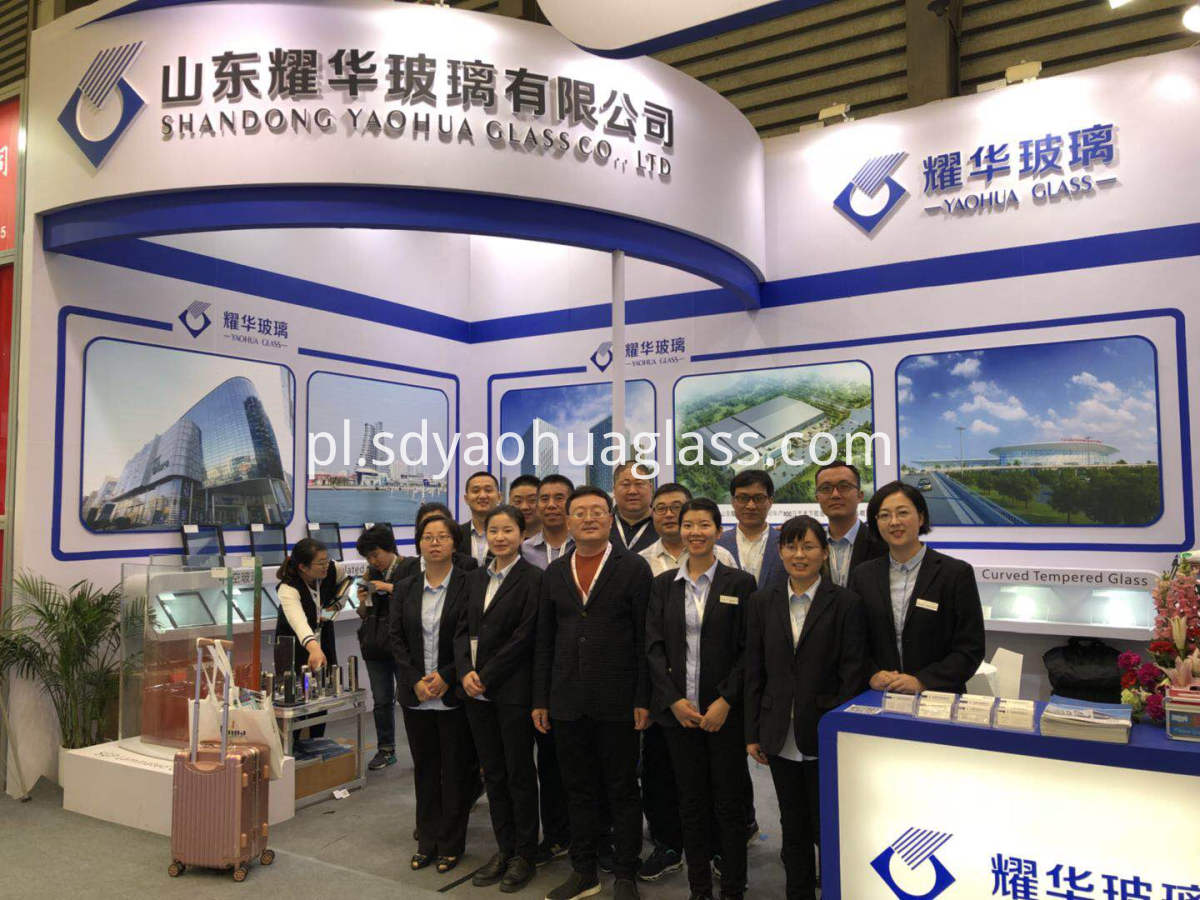 FAQ

1. How can I get the best price?
In order to offer our best price for you, please send all the details as below for us:
a. size and thickness of required glass; b. the approximate quantity; c. if special requirement like drill holes, cut notches, cutouts, acid etched, silkscreen; d. when you need those glass?

2. Where are you located?
Our factory locate in Jinan City, Shandong Province, China. Warmly welcome to visit us any time.

3- What's the fastest production time you can do?
Generally, insulated glass is 7-15 days, tempered glass is 10 days, laminated glass is 7-10 days.

4- How can you make sure the glass won't broken during transportation?
For all the glass from Shandong Yaohua Glass, we will pack them into strong export plywood crates and load the crates into container with metal belt as stable as possible. If unfortunately by accident, the glass broken, we will have insurance to cover the risk, because for all the glass from our company, we will purchase the insurance to cover all the risk for customers freely.

5- Can you accept small quantity?
Yes, but the price will be a little higher, because it needs to share more cost like depreciation of machinery and local charges.

6- Can you send me some samples to check your quality?
Sure, we could send the free samples (except special deep processing glass) for you any time. But for fair business, you pay for courier charge. If you have courier account like DHL, TNT, Fedex, send the detail account information to us, and we send out the samples ASAP. If you don't have courier account, transfer the courier charge for us, we will pay for delivery cost, and we will refund the courier charge for you once we start business.

7- Can you mix different glass in one container?
Yes, we could mix different processing glass like tempered glass, laminated glass and insulated glass in one container. But not with normal float glass.

8- How can I reach you faster?
Call us any time by phone number 0086
15615779827
. We are here for you 24 hours/day, 7 days/week.
Kategorie o produkcie : Szkło hartowane > Balustrada szklana